All the news that's fit to print.
Chilly Open Reimagined
My Fellow Sunrise Rotarians –
The 25th edition of the Chilly Open, Westerville Sunrise Rotary's Signature Event, is here. This year's anniversary celebration will be a little different than the past. This year's event will be a web broadcast production (think of it as the Chilly Open Telethon) that will be a mix of entertainment, engagement, and selling our mission to support the fight against Childhood Hunger. Hopefully you were able to join Wednesday's virtual meeting to hear the details, but if not, please stay tuned for more details to come and know that WE STILL NEED YOUR SUPPORT!!
The good news is that with everyone tuning in virtually we will not have the multiple days of setup or the need for everyone to be a "day of" volunteer. Everyone will get to sit back and enjoy the show!!
So what we do need is for every member to help bring value to the event and help raise as much $$ as possible for our two beneficiaries, Children's Hunger Alliance & WARM, and our Rotary programs!
Here is what you can do to help:
1. Be a Sponsor – We are still running the option for $200 of a sponsorship of $500 or more to go toward your annual Rotary Foundation Giving so a true Win-Win (Rotarian Sponsor Form Attached)
2. Recruit a sponsor – All for a good cause and with a virtual event we will be able to give recognition up close and personal (Regular Sponsor Form Attached)
3. Secure Items for the Silent Auction – our auction will obviously run online and will be open for several days. This will drive additional exposure for our event and our sponsors and is the single best way to raise funds that directly benefit the effort. There is no such thing as a bad auction item. It can either be sold alone or grouped into a basket of items to increase its value. Items can be dropped off at Dennis Blair's office and if you have any questions about the auction, please reach out to the auction committee (Jim Davis, Linda Bokros & Julie Colley)
4. Donate a Bottle (unopened ) for the Raffle – our raffle will be run through the online auction platform and the effort will be to "stock the bar". Donations of wine or alcohol can be grouped into a big value package. If we get enough bottles there may be more than one option from General Stock the Bar to a Bourbon Collectors package. Again drop items at Dennis Blair's office (I promise he will not drink it)
5. Sell Enhanced Ticket Packages – we are creating a special package to help people feel engaged with the virtual program and that will bring a little extra value. Anticipated cost will be $20 per package and these will be delivered (with your help) to people's doorsteps the day before the event. More details on the Enhanced Ticket Package will be shared at the January 6th Club meeting so please don't miss it!!
I know this all feels different but know that this Will Be a great Westerville Sunrise event unlike any other. To make sure we can successfully support our beneficiaries and continue all our Club programs, it is crucial that we get support from every member. If you have sponsorship questions please reach out to Mike MacKay or myself and we will be happy to help. If you have other questions about the event, reach out to the Chilly Open committee for more information and be sure to tune into future meetings for more information.
This Club is great and there is nothing we can't do when we are all behind the effort.
Thanks for everyone's hard work and support!!
Larry C. Jenkins
---
- Making a Difference
Local Matters is our Making a Difference charity for January/February. Local Matters is working to improve the health of our communities by increasing access to healthy foods, and providing education to at-risk families about how to prepare those foods in a way that is healthy and affordable. The items on our Amazon wishlist will be provided to our participants in our virtual education programs -- including groups of patients/families from Nationwide Children's Hospital, Columbus Urban League, and I am My Brother's Keeper -- to help them prepare healthy meals at home. We have a long history providing food education in our community and we know that one of the biggest barriers to low-income families cooking at home is not having the basic kitchen equipment to do it efficiently and safely.
Thanks to all who have purchased items on the Amazon wishlist. It's not too late if you'd like to participate. The link is
The link is
https://www.amazon.com/hz/wishlist/ls/122S7KMF0YVQU?ref_=wl_share
---
Sunrise Rotary Saturday Walks @ 10:30 AM
Let's get out to our local parks and walk a couple miles to kick off these winter weekends! Join fellow Rotarians, friends and family for a brisk winter walk in a local Westerville park. Weather permitting (basically, only ice or temperatures below 25 degrees will cancel the walk). Walks begin at 10:30am and will last for approximately 45 minutes. Use Sign-up Genius to register to participate on the following dates/locations:
January 23 - Metzger Park
February 6 - Highlands Park
February 27 - Hanby Park
Sign-up here to participate
---
Let's Talk Golf 2021
The date for our next Sunrise Rotary Mike Beres Annual Golf Outing has been set! We're giving you plenty of time to get your outfit together.
Friday, August 27, 2021
Safari Golf Club in Powell
---
Remember The 4-Way Test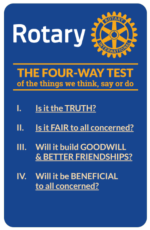 Greetings Rotarians, family and friends,
Wow, what a week. Future Sunrise Rotary meetings and actions will take place in a world that is a bit different than the one we signed off on at 8:30am last Wednesday. I was saddened and disappointed by last week's events
in Washington, DC
. And I don't really want to say anything more about that day except to share that it has been, as much of the past pandemic year, a reason to reflect on who I want to be in the world. And I think as Rotarians and members of our community, that we have an opportunity to improve our community means a little more
today.
And dare I ask if this is our
responsibility? It certainly is a choice, always has been.
We have to continue to honor our Four-Way Test. Never in my life have these guiding principles been more meaningful or relevant to me. I hope they are to you too.
What we all choose to say and do means something. It does. Although we very occasionally brushed up against the guardrails, all of you in this Club did such an amazing job of leaving politics out of our meetings and events through a charged political time! This gives me a great deal of hope that we can continue to leave our politics, religion and ego at the door when entering a Rotary space…even zoom-land.
I will not forget where I was when I heard about last Wednesday's events. Most of us feel the same. I can only hope we channel our emotions into actions that improve our community. And thank you to those who chose to do just that on Saturday. You took a walk in a park on a beautiful day…together. Families and friends-Rotarians and community members. It is the small things that heal and unify all of us.
Our immediate future may be uncertain, even close to home in Westerville. I can only thank those who choose to show up and act right now for your courage and belief in each other. You are the people who are shaping, and will continue to shape, our future. Let's take this opportunity to act as citizens of peace, for each other.
See you Wednesday.
In Peace,
Tom
---